Gain overview over your groceries!
Shop more selectively, save money and protect the environment in the process.
Have you ever been frustrated by having to throw away groceries because of unexpected expiry dates? Wouldn't it be handy to plan your recipes so that all of your groceries can actually get used? Do you sometimes lose track of what's still edible in the cupboard and freezer?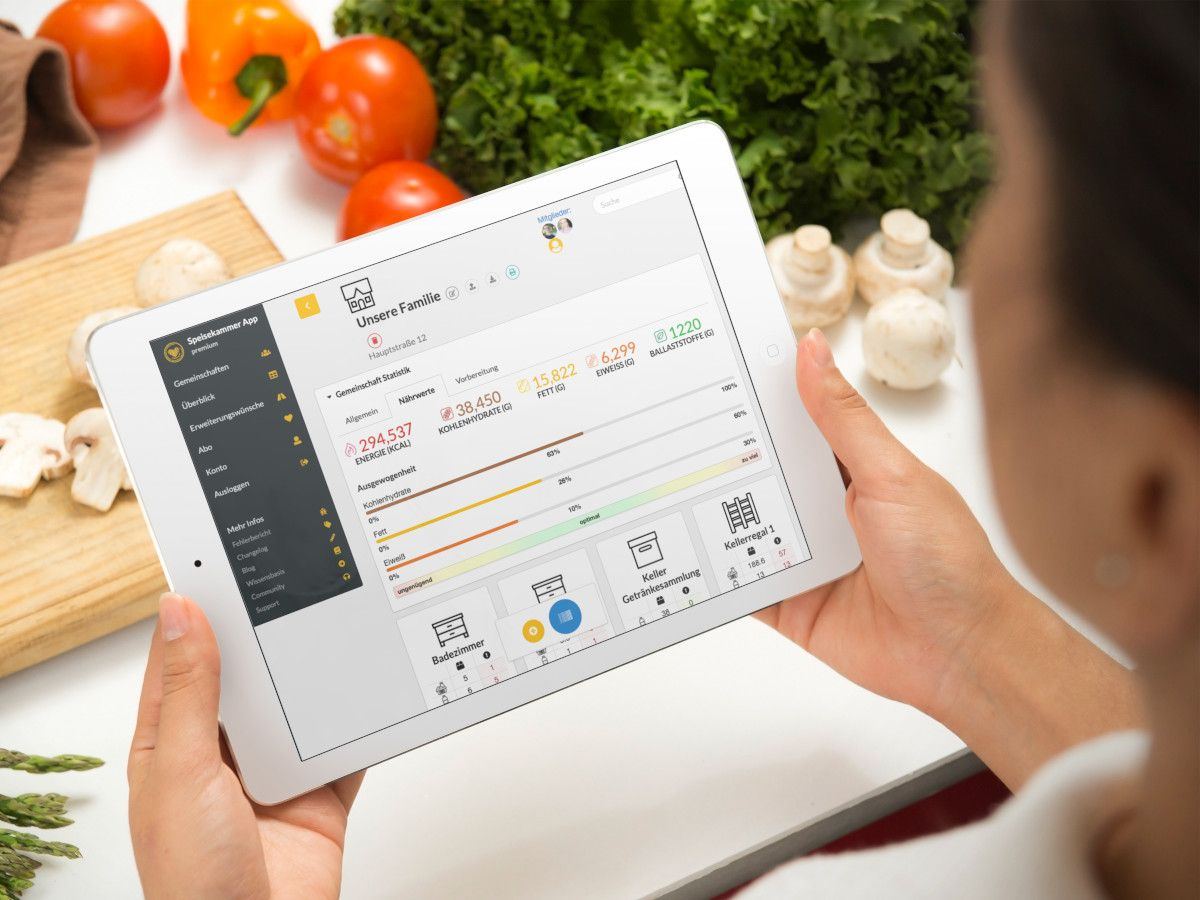 The digital version of your pantry, in an app
The Smantry Smart Pantry App helps you sort a number of things all at the same time. Once entered via the barcode scanner, all of your groceries are stored in the app along with their expiry date. This makes keeping track of things a breeze. You'll always know when the expiry date is, meaning you can plan everything out. Our app means you'll never be caught off guard by sneaky groceries hidden away somewhere ever again. This way, you'll not only make the most of your money and be more organized generally, but you'll also be actively fighting food waste!
The web app works on all your devices and doesn't require installation, so you can easily use it anywhere, even on the go on your mobile phone. A mobile phone camera is all that's needed to recognise groceries with the barcode. After making an initial pantry inventory, most users find the daily updates quick and easy. You'll then be able to:
Keep track of all of your groceries that are about to expire
Plan your shopping better, because you'll quickly see what's there and what's missing
Plan recipes with ingredients that are about to expire, so that everything gets used
Save time and stress with the Smantry App
Do you like to cook fresh, healthy meals but just don't have enough time because of work or the kids? There's no reason to compromise and go for fast food instead! That's because the app saves you time by going through the groceries you've already bought. All you have to do is enter each purchase into the scanner before you put the product away in the cupboard. That way, the app always knows what else is hidden and waiting to be made into a delicious meal. At one glance, you'll see which groceries are due to expire in the next few days. Time often flies by far too quickly in life, so the app is guaranteed to be a handy addition.
Live healthy and well organised, and get the most out of your money
Cooking healthy and preparing meals yourself is a lot easier with the app, because it takes all the hard work out for you. You won't have to look for, or memorise, expiry dates. This way, you can fully concentrate on the recipes available to you with the ingredients you still have on hand. With the app, throwing something away that would have been good to use will be a thing of the past. Whether you're a single person with a full-on job or a restless family with a busy schedule - with planning and organisation, you don't have to miss out on good food. The innovative app will help you out!
For tech geeks and tech grouches
Fortunately, the revolutionary food app is for everyone - whether you're a tech geek or a tech grouch. Beginners will find the application uncomplicated, while advanced users will be excited about the extensive setting options in the user account. Data is automatically synchronised in real time between different devices in your household. The camera can also be unlocked via the barcode scanner. Products are retrieved from a database of more than 1.7 million products to make entering them in as smooth as possible.

Your advantages with the food app:
Manage groceries instead of throwing them away.
The less stuff you have to throw away, the more money you'll save. The average European consumer throws away 7.5kg of food a month - worth €27! This adds up to €745 per year for an average European household! So, the app will help you significantly reduce your grocery expenses.
Check what's left in the house while on the move.
You can use the app to quickly check what's left in the house while on the move. This saves double the time when you're at the supermarket or thinking about what to cook for dinner during your lunch break.
Manage your pantry with individual storage locations.
You can manage all your food storage locations in the house individually in the app. Because these are different for everyone. If you set your fridge as a storage location, you'll have a smart fridge in no time. A big plus of recording your pantry inventory for the first time is that groceries that have already been forgotten often turn up, and so can actually be used. It's also a great opportunity to sort and clean your cupboards while you scan.
Storage locations that are difficult to see, like the freezer.
The app helps you manage more than just the contents of your normal kitchen cupboards. Even the freezer you use to store frozen meals will no longer be forgotten. After all, if you love to cook in advance then you want to be able to enjoy the benefits - and not be annoyed when something's been kept in the freezer for far too long.
Create your own product photos.
In the app, you can view publicly available product photos from the database - and you can also save private product photos of your own. This way, you might be able to find your supplies even faster.
Useful nutritional information.
You'll also find the corresponding nutritional information for the scanned products. This makes it even easier to look after your health. You can even call up nutritional statistics for an entire storage location.
Practical reminder function for groceries that are about to expire.
The app not only knows what you no longer need to worry about. It also has a handy reminder function. Once scanned, groceries can be sorted by expiry date, so you'll always be up to date.
Be prepared for emergencies.
The food app also means you'll be well prepared for any possible emergencies. As the government recommends, an emergency supply of groceries should always be on hand. The app lets you calculate the nutritional needs of your entire family. This makes it easy to figure out, and purchase, the amount of recommended supplies you need.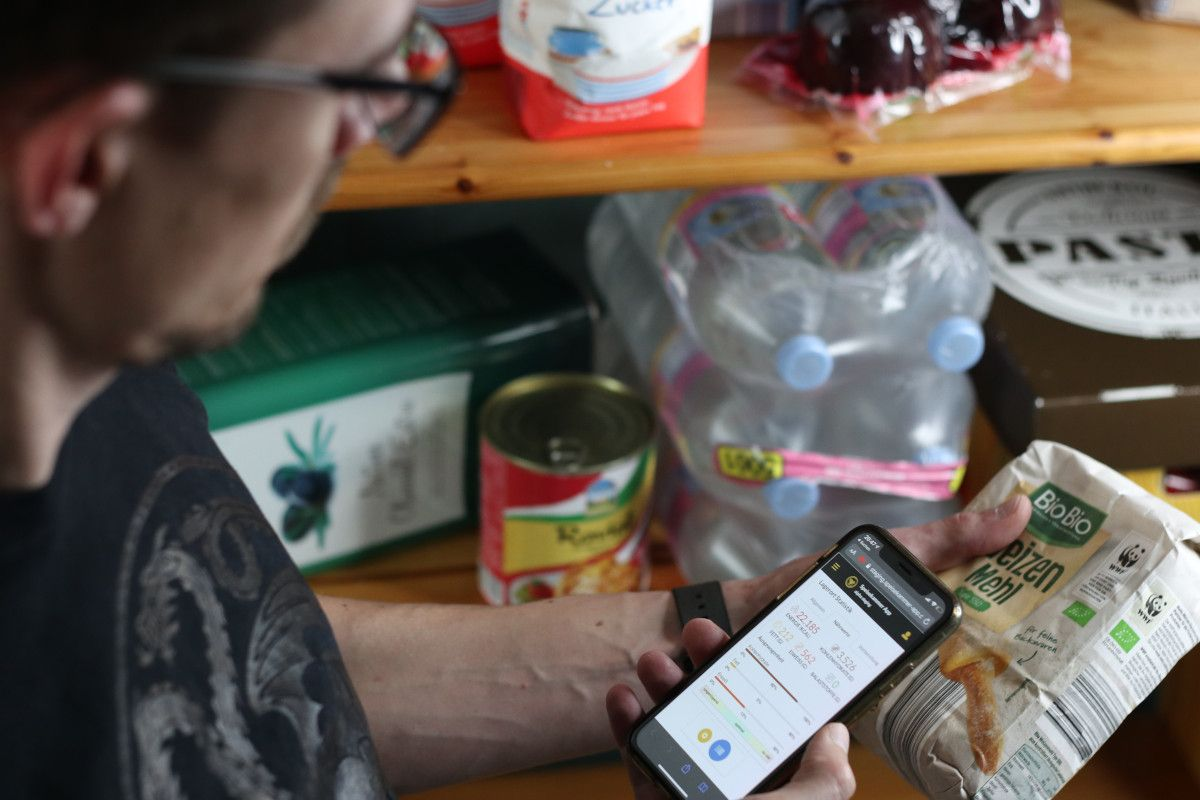 User testimonials
"Works well and flawlessly" - Willi
"I had the exact same idea, because it's a real challenge for me. I throw too much food away." - Casper
"I'll happily sign up, including to see if my household can FINALLY be taught a thing or two 😀 Thanks for your help!" - Irene